Alpona Contest
The Berger Priyo Pujo Alpona Contest is back with all its grandeur and creativity from the talented artists of Kolkata paras and abashans this year.
Running across Kolkata Barowari pujos & housing complexes of Kolkata, this vibrant competition is for the Pujo organizers to participate and win exciting prizes.
Get as creative as you can get and more the colour the better it is.
And the biggest surprise of all, we aim to break records with the stature and creativity of this year's Alpona Contest!!
This competition is open for all the Pujo organizers by filling-in a simple registration form that you get along with the Priyo Pujo registration form.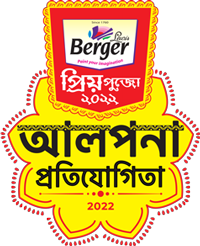 Prizes
For Barowari Pujo
1st Prize: Rs 50000
2nd Prize: Rs 30000
3rd Prize: Rs 20000
For Abashan Pujo
1st Prize: Rs 20000
2nd Prize: Rs 15000
3rd Prize: Rs 10000
SO PUT YOUR CREATIVE CAPS ON AND EXPRESS YOUR TALENT IN A TRIBUTE TO THE GODDESS.
Winners 2022
Winners 2021
Terms & Conditions
Registrations can be done by calling on 82408 70215 & 96631 89933 or by downloading the form from www.bergerpriyopujo.com.
First date of registration is 14 September & last date is 23 September 2022.
The contest is open to all Pujo pandals in Kolkata pujos only and for all housing complexes in Kolkata only.
A non-trafficable space/area should be used, ideally in front of the pandal to attract maximum visibility. If road space is not available, it can be made on any other surface.
It is mandatory to include the Berger Priyo Pujo 2022 logo in the Alpona, however, the Berger Paints brand logo or any of its brand names should not be drawn on the floor/road and such entries will be disqualified.
All interested Pujo Committees must confirm their participation in the Alpona Contest by 24 September 2022.
Jury members will visit all participants on 30 September 2022 (Panchami).
The longest Alpona will be shortlisted for the second round with 70% weightage on the length and 30% on creativity.
Minimum size of Alpona

Barowari: 600 sqft
Abashan: 300 sqft

Out of the total participants, 10 alponas will be selected from Kolkata Barowari Pujo and 10 from Abashan Pujo in Kolkata would be shortlisted for final judgement (Shasthi – 1 October 2022).
A banner for Alpona Contest to be put up at the top 20 shortlisted pujos at a prominent location near the pandal.
The Alpona contest judging & prize distribution of Top 3 Alponas each from Barowari and Abashan Pujos to take place on 2 October 2022 (Saptami). Winner names will also be put up on 2 October 2022 (Saptami) on the Berger Priyo Pujo website.
This is the property of Berger Paints and Videography of the event should be permitted.
The decision of the judges is final and binding. Any sort of canvassing will lead to disqualification.
Top 3 Alponas from Barowari Pujo and Abashan Pujo each will be awarded a certificate and there will be 1st, 2nd & 3rd prizes.
For Barowari Pujo

1st Prize: Rs 50000
2nd Prize: Rs 30000
3rd Prize: Rs 20000

For Abashan Pujo

1st Prize: Rs 20000
2nd Prize: Rs 15000
3rd Prize: Rs 10000

All disputes are subject to the jurisdiction of Kolkata High Court.
রেজিস্ট্রেশন 82408 70215 এবং 96631 89933 এ কল করে অথবা www.bergerpriyopujo.com থেকে ফর্ম ডাউনলোড করে করা যেতে পারে
রেজিস্ট্রেশনের প্রথম তারিখ ১৪ই সেপ্টেম্বর এবং শেষ তারিখ ২৩শে সেপ্টেম্বর ২০২২
প্রতিযোগিতাটি শুধুমাত্র কলকাতার পুজোর সমস্ত পুজো প্যান্ডেলের জন্য এবং শুধুমাত্র কলকাতার সমস্ত হাউজিং কমপ্লেক্সের জন্য উন্মুক্ত।
সর্বাধিক দৃশ্যমানতা আকৃষ্ট করার জন্য প্যান্ডেলের সামনে একটি অ-যানবাহন স্থান/এলাকা ব্যবহার করা উচিত। যদি রাস্তার জায়গা পাওয়া না যায়, তাহলে এটি অন্য কোনো সার্ফেসে তৈরি করা যেতে পারে
আলপনায় বার্জার প্রিয় পুজো ২০২২ এর লোগো অন্তর্ভুক্ত করা বাধ্যতামূলক, তবে বার্জার পেইন্টস ব্র্যান্ডের লোগো বা এর কোনো ব্র্যান্ডের নাম মেঝে/রাস্তায় আঁকা উচিত নয় এবং এ ধরনের এন্ট্রি অযোগ্য ঘোষণা করা হবে।
সমস্ত আগ্রহী পুজো কমিটিগুলিকে আলপনা প্রতিযোগিতার জন্য তাদের অংশগ্রহণ নিশ্চিত করতে হবে ২৪শে সেপ্টেম্বর ২০২২
জুরি সদস্যরা ৩০শে সেপ্টেম্বর ২০২২(পঞ্চমী)সকল অংশগ্রহণকারীদের সাথে দেখা করবেন
দীর্ঘতম আলপনাকে দ্বিতীয় রাউন্ডের জন্য ৭০% দৈর্ঘ্য এবং ৩০% সৃজনশীলতার জন্য বাছাই করা হবে
আলপনার সর্বনিম্ন আকার

বারোয়ারি: ৬০০ স্কোয়ার ফুট
আবাসন: ৩০০ স্কোয়ার ফুট

মোট অংশগ্রহণকারীদের মধ্যে, কলকাতা বারোয়ারি পুজো থেকে ১০টি আলপনা এবং কলকাতার আবাসন পুজো থেকে ১০টি চূড়ান্ত রায় দেওয়ার জন্য বাছাই করা হবে (ষষ্ঠী - ১লা অক্টোবর ২০২২)
আলপনা প্রতিযোগিতার জন্য একটি ব্যানার প্যান্ডেলের কাছে একটি বিশিষ্ট স্থানে শীর্ষ ২০টি সংক্ষিপ্ত তালিকাভুক্ত পুজোতে স্থাপন করা হবে
আলপনা প্রতিযোগিতার বিচার ও পুরস্কার বিতরণ শীর্ষ ৩টি বারোয়ারি এবং ৩টি আবাসন পুজো থেকে ২রা অক্টোবর ২০২২ (সপ্তমী) অনুষ্ঠিত হবে । বার্জার প্রিয় পুজো ওয়েবসাইটে ২রা অক্টোবর বিজয়ীদের নামও দেওয়া হবে
এটি বার্জার পেইন্টসের সম্পত্তি এবং ইভেন্টের ভিডিওগ্রাফির অনুমতি দেওয়া বাধ্যতামূলক।
বিচারকদের সিদ্ধান্ত চূড়ান্ত এবং বাধ্যতামূলক। যে কোনও ধরণের প্রচার প্রচার অযোগ্যতার দিকে পরিচালিত করবে।
বারোয়ারি পুজো এবং আবাসন পুজো থেকে সেরা ৩টি আলপনা প্রত্যেককে একটি সার্টিফিকেট দেওয়া হবে এবং সেখানে প্রথম, দ্বিতীয় এবং তৃতীয় পুরস্কার থাকবে।
বারোয়ারি পুজোর জন্য

ক। প্রথম পুরস্কার: 50000 টাকা
খ। দ্বিতীয় পুরস্কার: 30000 টাকা
গ। তৃতীয় পুরস্কার: 20000 টাকা

আবাসন পুজোর জন্য

ক। প্রথম পুরস্কার: 20000 টাকা
খ। দ্বিতীয় পুরস্কার: 15000 টাকা
গ। তৃতীয় পুরস্কার: 10000 টাকা

সমস্ত মতবিরোধ কলকাতা হাইকোর্টের এখতিয়ারভুক্ত।