Dhunuchi Contest For Individuals
As Berger Priyo Pujo steps into its 10th year, the excitement and engagement will be ten-fold higher this year from Berger. As we are all aware of the fact that Durga Pujo is all about good vibes, festive spirit and joyous celebrations. "Dhunuchi Nach" is part of such a joyous celebration and not to forget key part of our heritage and culture executed in Durga Pujo.
What is Dhunuchi Nach?
It is a dance with terracotta censer in front of the Goddess and has been embedded in the rituals and festivities of Durga Pujo. Berger brings forth a new addition to the festivities by introducing a "Dhunuchi Nach" competition for everyone to be a part of Berger Priyo Pujo.
Deck up in traditional Bengali attire and dance to the tunes of the Berger Priyo Pujo anthem with a 'Dhunuchi' in hand and send the videos to us to choose this year's winners.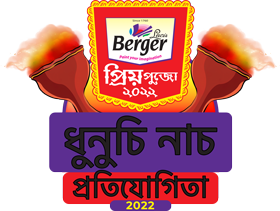 Upload Video
Winners 2022
Congratulations to the winners of Berger Priyo Pujo Dhunuchi Contest for individuals! Your prizes will be sent to you shortly!
Terms & Conditions
The Dhunuchi Nach contest is open to all individuals.
Registration for Dhunuchi Nach Contest starts on 28th September and ends on 5th October 2022.
All interested persons to register themselves and post a video of theirs by the 5th of October 2022.
Registrations can be done on the website.
The individual needs to upload a video of 30 sec duration.
They need to dance to either of the two Berger Priyo Pujo 2022 official anthems (30 sec video within 5 MB).
The performance should take place near the pandal or in front of the idol for a better photo-op.
Dress Code: Traditional Bengali attire.
To upload the performance video, visit dhunuchicontest.bergerpriyopujo.com/individuals. The last date to submit your video is 5th Of October 2022.
The Individuals can also upload the videos on their social media accounts apart from uploading on Berger Priyo pujo website using hashtags #BergerPriyoPujo and #Dhunuchinach.
Top 10 winners would get: Rs 5,000/- each from each category (3 best dance moves + 3 best attires+ 4 overall winners) along with trophy and certificate.
This is the property of Berger Paints and Videos of the performances will be used by Berger.
The decision of the judges is final and binding. Any sort of canvassing will lead to disqualification.
All disputes are subject to the jurisdiction of Kolkata High Court.